April 21, 2021 cib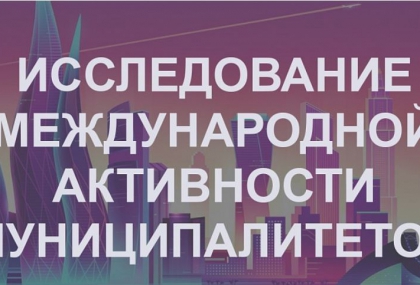 The analytical part of the Research on Cities' International Activity that includes the analysis of the municipalities' work on different areas of international activity and recommendations for their improvement has been prepared.
Let us remind that the Research on Cities' International Activity is a project of UCLG EURASIA, which is an analysis of the activities of local governments towards the development of international relations. Its main goal is to encourage local governments to develop international relations.
The city of Bishkek became the absolute winner of the rating and was awarded the UCLG EURASIA Prize of 10,000$ to be spent on developing and strengthening international activities. The Turkish city of Izmir ranked second in the rating. In 2019, thanks to the support of UCLG-MEWA, cities of Middle East joined the research for the first time. Khabarovsk took third place, and is the only city in the top-10 with a population of less than one million. A total of 78 cities from Russia, Turkey, Kazakhstan, Kyrgyzstan, Belarus, Moldova and Palestine participated in the research.
The cities of Kazan, Bursa, Rostov-on-Don, Perm, Gaziantep, Ufa and Ankara are in the TOP-10 of the rating as well. Khabarovsk, Ulyanovsk and Tomsk are the leaders among the largest cities. Mytishchi, Mogilev, Stavropol, Kaliningrad and Yakutsk reached the TOP-5 of the rating among large cities. Among medium-sized cities, the cities of Comrat, Magadan and Bugulma occupy the leading positions. Magas, Bolgar and Beit Jala are in the TOP-3 among small cities.
The research has shown that each city has its own strengths and weaknesses. For instance, among Eurasian cities, Kaliningrad won in terms of the active work with partner cities. The city managed to organize joint programs and events with half of the 49 twin cities. Shymkent became the leader among Eurasian cities in the number of branches and representative offices of foreign companies. The strength of Yekaterinburg is a great number of consulates. 16 consulates general, honorary consuls of 11 countries and 11 visa application centers are located here. Kazan with the tourist flow of 3,2 million became the leader in terms of the tourism volume.
This research has allowed to identify the best experience in developing international relations and elaborate recommendations to improve the work towards the development of international relations. The full text of the research is available via the link.
Source: UCLG EURASIA