September 02, 2019 cib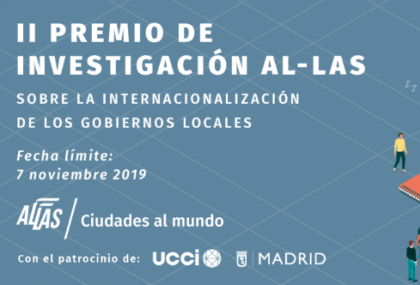 With the aim of promoting professional and academic reflection on issues related to international action taken at a local level, the Euro-Latin American Alliance for Cooperation Among Cities (AL-LAs), in collaboration with the Union of Ibero-American Capital Cities (UCCI), has now opened a call for entries to the second edition of the "AL-LAs Research Award on the Internationalization of Local Governments". Please find all information below, and apply before the 7th of November.
Research areas:
Progress, setbacks and perspectives in the internationalization of Local Governments
Local Governments internationalization experiences: Methods and objectives in Latin America and Europe
Strategies of local governments on influencing developments in global fora.
Categories and prizes:
Students:

First prize: € 500 and publication

Second prize: publication

Professionals:

First Prize: €1400 and publication

Second prize: publication

Academics

Researchers:

First Prize: €2900 and publication

Second prize: publication
Participation:
Applicants must be from Latin American, Spanish or French local and regional governments
Deadline for applications: November 7, 2019
Background provided by AL-LAs
In 2014, the first edition of the prize was launched. It aimed to motivate reflection on various thematic areas related to the international action of local governments: sustainability, social inclusion at the local level, territorial attractiveness and local governments on the world agenda. After going through a favorable period for the internationalization of local governments in the past ten years, today this context has changed. A crisis of multilateralism can be perceived, in which agreements and commitments, assumed on the basis of political will, have in some cases been weakened. This has been, amongst other reasons, the result of the emergence of nationalist movements and financial crises globally.
Promoting research on the context, trends and potential challenges for the international action of local governments will favor not only the existing body of knowledge, but will also provide elements for decision-making and policy development. The entering of local and regional governments, as well as their networks and associations, on the international scene, is a process that has rapidly developed in recent years. Nowadays, a local government cannot fully exercise its powers, provide public services, or promote its productive capacity without entering into a dynamic of relationships with foreign actors, according to AL-LAs. "Today, international relations are a vital learning and opportunity space for every city, municipality or territory. We, as local governments, are international actors because we are forerunners of sustainable development."
For many years the international relations of local governments were understood in a limited way. They were coined "decentralized cooperation" – the relationships of local government to local government channeled primarily through projects. However, this is only one of many foreign work and collaboration methods. Thus, the twining, city-city cooperation, advocacy actions and international diplomacy of cities currently coexist. These activities go beyond the initial vision of development aid; they include initiatives in favor of peace, local alliances on migration issues, economic promotion programs, tourism, sports, investments, education, culture, as well as concrete responses in cases of natural emergencies or catastrophes.
The ultimate goal of any international action involving a local government is the improvement of living conditions of the population living in its territory.
For more information: Read more